Mayflower College of English

School Info

Website
Contact

Paul Stevens
Director
Address

1 Radford Road,
Plymouth PL1 3BY,
United Kingdom
Telephone

+44-1752-673784
Fax

+44-1752-671537
Brochure
QR Code
About Us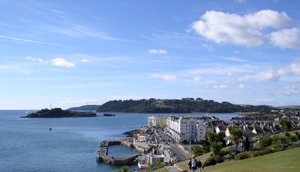 "To Speak English Or Not To Speak English - That Is The Question!"
Why choose the Mayflower College?
Located just a few metres from the seafront in the historic city of Plymouth
Small class sizes (average of 6 students per class)
Free Saturday excursions
Last year students from 51 different countries studied at Mayflower College
20 classrooms (all with internet access and many rooms have a view of the sea)
Computer suite (20 terminals) with free internet
Our own pub ("Pilgrims Inn") - this is a private pub only for Mayflower College students and their friends.
Cafeteria serving lunches
IELTS Examination Centre (many of our teachers are also IELTS examiners)
Mayflower College offers:
General English courses (3 or 5 hours per day)
Courses to prepare students for the IELTS examination.
Aviation English language courses for groups of Air Traffic Controllers and Pilots
Courses for international teachers of English.
Academic English courses for entry to University of Plymouth (or any other British University)
Tailor-made "total immersion" courses for professionals (up to 9 hours per day)
Courses for juniors combining English language tuition with sports / activities / visits.
For your stay in Plymouth we will arrange accommodation in a very carefully selected local host family who will provide a private bedroom, meals (breakfast, packed lunch and dinner) and the warmest of welcomes.
Students at the Mayflower College have free internet access and use of our popular self-study materials.
Visit our web site www.maycoll.co.uk - this has been translated into 19 languages.
Contact Us
Our Courses
Local Agents
Translations