Bloomsbury International
Winter Junior English Courses
« Back to School Enquire about this Course Visit School Website »
Availability
Jan
Feb
Mar
Apr
May
Jun
Jul
Aug
Sep
Oct
Nov
Dec
Accommodation Homestay / Residence
Price Range £269.00 per week
Price Includes Free Social Proramme
Beginners Beginners Welcome
Class Size 16 maximum
Town / City & Region London , London
Tuition Style Group
Tuition Hours Per Week 15.0
Ages 5 - 17
Course Type Junior
Other Information
We offer high quality winter english courses for young learners
who would like to improve their English language through a fun, interactive programme of activities at one of the best times of the year to be in London.
Young learners will cover topics suitable to their age and interests, including seasonal topics such as holidays and festivals to help them make the most of their winter holiday. Teachers will work on improving overall communication skills: phonology for speaking pronunciation, topical vocabulary, functional grammar, listening, writing and reading skills. By the end of the course, students will feel more confident in using everyday functional language appropriate to their age and interests.
Additionally, our Young Learner social programme (included in the price) provides an opportunity for learners to practise the new language while also learning about British culture during visits to London's most famous landmarks such as Hyde Parks' Winter Wonderland. This amazing attraction is only open this time of year and has wonderful Christmas markets and delicious seasonal food. You will feel like a real Londoner as you glide around the skating rink!

Another (free!) option is to go see the Christmas lights around Oxford and Regent Street. Oxford Street has all the big chain stores your will ever need while Regent Street is full of smaller, luxury shops.
For younger visitors, Hamleys on Regent Street is the most famous toy shop in the world. Life-size bears and trains sit next to state-of-the-art technology – the whole family will love it!
Bloomsbury International is a member of Young Learners English UK - a Special Interest Group of English UK for accredited providers of quality English language courses for Young Learners.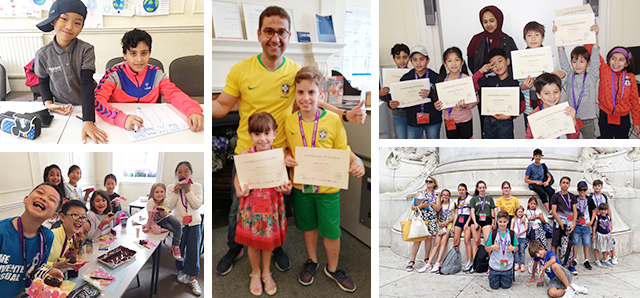 « Back to School Enquire about this Course Visit School Website »