Bloomsbury International
Spring Junior English Courses
« Back to School Enquire about this Course Visit School Website »
Availability
Jan
Feb
Mar
Apr
May
Jun
Jul
Aug
Sep
Oct
Nov
Dec
Accommodation Homestay / Residence
Price Range £269.00 per week
Price Includes Free Social Proramme
Beginners Beginners Welcome
Class Size 16 maximum
Course Length 1 weeks - 5 weeks
Town / City & Region London , London
Tuition Style Group
Tuition Hours Per Week 15.0
Ages 5 - 17
Course Type Junior
Other Information

We offer high quality spring english courses for young learners
who would like to improve their English language through a fun, interactive programme of activities during the spring in London.
High quality courses for young learners provide the chance to gain practical skills and confidence in a 'real-world' situation. Our highly-qualified teachers will work with the learners to fill the gaps in their understanding and encourage them to communicate with native-English speakers. The course focuses on topics appropriate to the students' age and interest, functional grammar, listing, reading and writing. Learners will leave the programme with the skills and self-assurance confidence to apply to their education back home.
Additionally, our Young Learner social programme (included in the price) provides an opportunity for learners to practise the new language while also learning about British Culture during visits to London's most famous landmarks, such as Big Ben and the Tower of London. In our guided trips, learners will explore London with a teacher who will help them find out more about our wonderful city. This is an excellent opportunity to learn and practise English outside the classroom.
Top events for spring include the London Marathon! Around 40,000 people sign up and you could join the crowds to watch some of the most famous athletes in the world run through one of the greatest cities in the world! The route goes past the Tower of London, the London Eye and ends in front of Buckingham Palace so there is plenty to see.

Another option is to explore some of the many gardens and parks in one of the greenest cities in the world. You can take spring-time walks in the Princess Diana Memorial Garden at Kensington Palace, or Queen Mary's Rose Garden in Regent's Park. Another option is the stunning Kew Gardens – home to the largest collection of living plants in the world.
Like all great cities London is best explored on foot. Spring is the perfect time to get out and about and explore all it has to offer.
Bloomsbury International is a member of Young Learners English UK - a Special Interest Group of English UK for accredited providers of quality English language courses for Young Learners.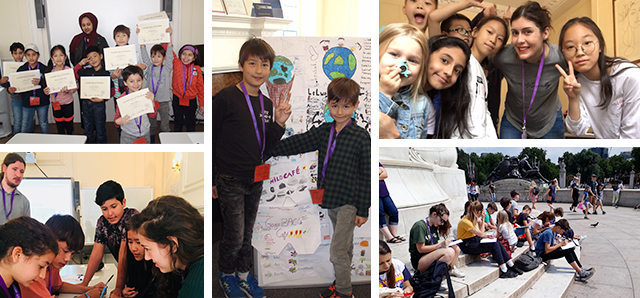 « Back to School Enquire about this Course Visit School Website »