Bloomsbury International
Summer Junior English Courses
« Back to School Enquire about this Course Visit School Website »
Availability
Jan
Feb
Mar
Apr
May
Jun
Jul
Aug
Sep
Oct
Nov
Dec
Accommodation Homestay / Residence
Price Range £269.00 per week
Price Includes Free Social Proramme
Beginners Beginners Welcome
Class Size 16 maximum
Course Length 1 weeks - 12 weeks
Town / City & Region London , London
Tuition Style Combination of Group and One to One Tuition
Tuition Hours Per Week 15.0
Ages 5 - 16
Course Type Junior
Other Information

We offer high quality summer english courses for young learners
who would like to improve their English language through a fun, interactive programme of activities in London during the summer.
Young learners will be exposed to and have practice in everyday functional language appropriate to their age and interests. This exciting communicative programme concentrates on improving overall communication skills: phonology for speaking pronunciation, topical vocabulary, functional grammar, listening, writing and reading skills.
Additionally, our Young Learner social programme (included in the price) provides an opportunity for learners to practise the new language while also learning about British culture during visits to London's most famous landmarks. London's parks are at their most beautiful at this time of year and our social programme takes full advantage of this. Activities are designed to show the best London has to offer, all in the company of a qualified teacher.

Summer opportunities include the chance to go inside Buckingham Palace on a tour – only possible during the summer months. You can also visit Wimbledon – home of tennis. Enjoy the decadence of traditional strawberries and cream as you watch world-class tennis. There are so many famous visitors you will be bound to see well-known celebrities or maybe a member of royalty! July is one of the warmest months to visit and there are hundreds of outdoor activities that take advantage of this. You could visit the RHS Hampton Court Flower Show – the largest in the world – which is set in a beautiful Tudor palace by the Thames.
Bloomsbury International is a member of Young Learners English UK - a Special Interest Group of English UK for accredited providers of quality English language courses for Young Learners.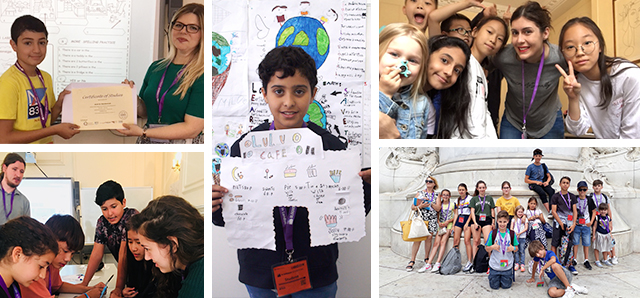 « Back to School Enquire about this Course Visit School Website »