Discovery Summer
London - Full Day - Queen's Gate (7-13 years)
« Back to School Enquire about this Course Visit School Website »
Availability
Jan
Feb
Mar
Apr
May
Jun
Jul
Aug
Sep
Oct
Nov
Dec
Accommodation
Price Range £750.00 per week
Price Includes Tuition, cold 'picnic' lunch, afternoon activities
Beginners Beginners Welcome
Class Size 14 maximum
Course Length 1 weeks - 6 weeks
Town / City & Region Kensington, London , London
Tuition Style Group
Tuition Hours Per Week 15.0
Ages 7 - 13
Course Type Junior
Other Information
Designed for families visiting London. Parents can study with as at Collingham or enjoy free time. The Queen's Gate full day programme for juniors (7-13 years) takes place at Baden Powell House just 5 minutes' walk from Gloucester Road and South Kensington Underground stations.
The programme runs from 09:00-17:00h Monday to Friday. Courses start every Monday.
Levels: beginners (subject to availability) to upper intermediate
20 hours' per week including English Skills, English Workshops and end-of-week presentation
English Workshops e.g. Animation, British Comics, Drama, Recycled Art, Rocket Design and more!
A highlight of the week is the study visit to one of the Keinsington museums (Natural History Museum, Science Museum, Victoria & Albert Museum), a short walk away
Cold 'picnic' lunch included in the fees (e.g. sandwich, fruit, cereal bar, drink)
Afternoon activities, led in English, include arts & crafts, games on the terrace, team-building activities, traditional sports day in Kensington Gardens (10 minutes' walk away)
Accommodation - most junior students live with their family in London, who accompany them to and from the school. For families visiting London we'll be pleased to send you a list of hotels and apartments.
www.discoverysummer.co.uk/queensgate.php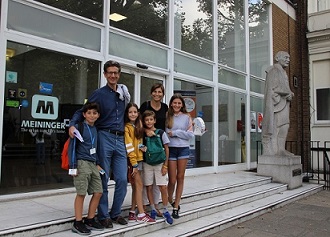 « Back to School Enquire about this Course Visit School Website »